Welcome To The Latest
TGJ Roundtable!
Over the years, That Grape Juice has established a distinguished voice that – whether loved or loathed – sparks discussion, debate, and on occasion drama!
Though comprised of seasoned writers who share a similar outlook on Urban Pop culture, the idiosyncrasies of the TGJ team members often lend for quite heated debates "behind the scenes" about the hottest topics.
Now, we give you a front-row seat to the show. In a format similar to 'The View' or 'The Real', TGJ editors – Sam, Rashad, Joe, and Ryan – get real in a very candid way.
Today's roundtable topic asks each anchor their thoughts on the…
2021 MTV VMAs 
Sam
The 2021 VMAs continued the industry's return to the live audience format. And oh was it welcome. There's incomparable energy that a capacity crowd brings and many of the night's showings benefitted.
So, let's jump straight into it.
Normani Kordei Hamilton delivered what was hands-down the night's best performance.
Her TV debut of 'Wild Side' was a masterclass in commitment to craft and somehow managed to serve intensely intricate and effortless at the same time. The choreography, the staging, the live arrangement, and that climatic Janet Jackson tribute with Teyana Taylor. Bliss.
The entire segment gave life everlasting and there was something incredibly familial artistically about having Ciara introduce, Teyana contribute, and the Janet salute.
There is ample irony in the fact that the act that almost wasn't booked to perform is the act whose performance slayed most. On the merit of this showing alone, her phone ought to be ringing non-stop with more opportunities because the industry has needed what she so clearly has.
One of the night's other top moments came courtesy of Chloe Bailey. A fireball of energy, it's clear she set out to blaze the stage with her highly viral hit 'Have Mercy' and, to a degree, it was mission accomplished. Because there was no denying that she went all out.
But, here's the thing. As a standalone performance, it was objectively solid. Yet, when placed in the context of it possibly being her big solo "break out" moment, I'm afraid that title will have to go to a future showing.
I'm part of the folk who love how intensively Ms. Bailey performs. So, you'll never hear me bemoan a performer going all out. Especially in an era where so few do. However, thematically, I felt too much was going on. This was literally serving Harry Potter, meets twerk team, meets Lady Gaga. And while it's clear the goal was to recreate some of the quirkier elements of the music video, it tried to blend too much when it would, could, and should have benefitted from a little refinement.
Still, a killer showing and one that has me excited about her potential.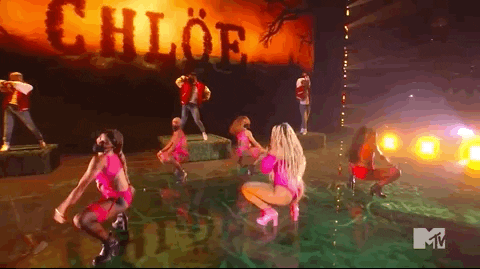 Elsewhere, Lil Nas X was another act who aptly seized the VMAs platform to recreate music videos; in his case 'Industry Baby' and 'Montero.' I really enjoy his presence and felt he once again delivered visually. I was expecting a little more in way of shock and awe, but at this point him blinking ruffles feathers. So, it's probably the smarter play to just do him and keep folk on their toes with his unpredictability.
Kudos to creative force Sean Bankhead, who pulled double duty with both Normani and Lil Nas X and in the process reaffirmed how vital a performer's team is to their end product.
In the TGJ group chat, I've made no secret of how much I've had Camila Cabello's 'Don't 'Go Yet' on repeat. As such, heading into the show, I was excited to see how she'd bring it to life on one of the grandest stages. Sadly, it just didn't wow me. It was super heavy on spectacle, but ultimately missing any definable "moment." Even more awkward was the literal note it ended on. Because that "money" note sounded more like jangling spare change.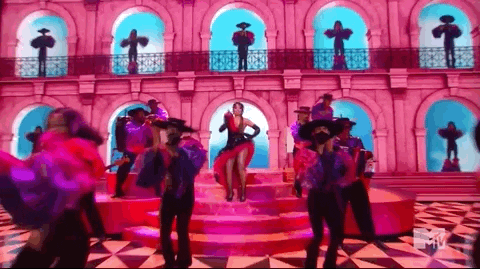 Shows like the VMAs are renowned for serving up "something for everyone," so while the following didn't gag me, I somewhat enjoyed the likes of Alicia Keys, Kacey Musgraves, and Olivia Rodrigo. For me, this year's toilet breaks came courtesy of Shawn Mendes and Justin Bieber.
Doja Cat surprised me. Because while she is ever dependable as a performer and her going airborne was awesome, something didn't quite connect holistically. Similarly, her hosting left a lot to be desired too. Almost felt phoned in and very teleprompter based. She has so much personality and I was expecting…more.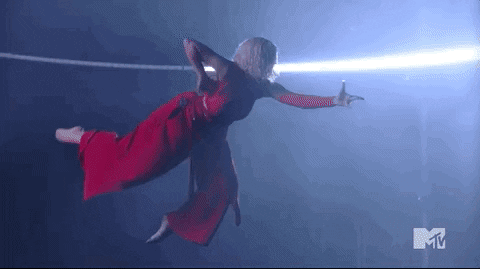 On slightly nerdy note, word is that this year's setup – two mirroring main stages – was in place to allow for a fast flow of performances and actually saw the show accommodate more total performances than ever before. Did anyone else notice how they were able to jump from one major spectacle to the next with no break? Well, that's how!  On a technical tip, this worked really well and added a seamless feel.
Overall, the VMAs packed a hearty helping of memorable moments amidst some that…well…weren't. More than anything, it definitely saw the New Skool show up and show out. And in many ways felt like a preview of who could be the titans of tomorrow.
**************
Rashad
Although the Shawn Mendes, Ed Sheerans, and co of the performance roster had me dozing, "Girl Power" should've been the theme of the 2021 MTV VMAs because from start to finish the girls showed up and out and reminded viewers who really run this mutha-. Most importantly, BLACK GIRLS ROCKED!
Normani's showing was a standout for me, though – in all its energy, glory, and Janet Jackson-inspired splendor – came as a glaring underscore of why that song is just NOT it! PS – I need Boosie to be just as outraged about this as I'm sure he was Lil Nas X's performance.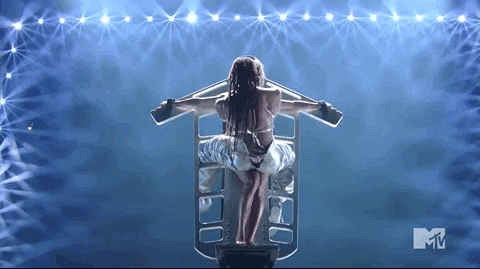 Elsewhere, Chloe's equally energetic performance – though captivating – may have arguably been TOO energetic. It seemed unsharpened, a bit chaotic, weird in parts, and too much of a Beyoncé Halloween tribute act. Wasn't expecting the world from her performance as she is technically a rookie (all things considered). But, if you're going to use Bey as a performance guide, one of the most important things to note is energy pacing to build to a climax. Don't come out on 100.
Doja, Alicia, and Latto looked and sounded great, though none rendered memorable performances.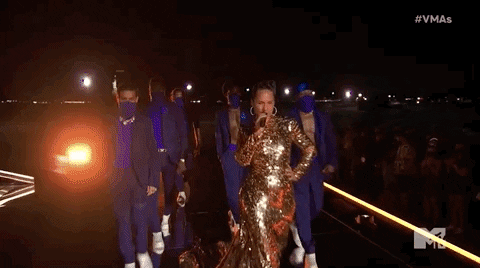 Finally, Camila Cabello and Lil Nas X. The latter delivered the most visually engaging performance of the night yet served as another reminder of how incompetent he is as a performer. He keeps up with the choreography instead of leading and commanding it.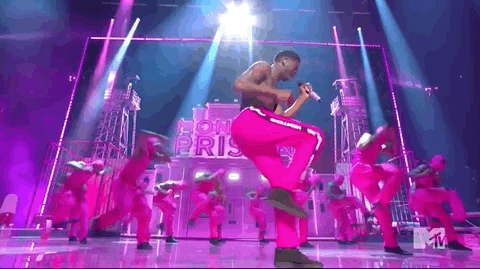 Unlike Nas, the former's consistency reaffirmed her competence as a performer. My only gripe is that Cabello plays it entirely too safe. One day I want to see her just totally go for it in a performance, throwing the overly stylized choreo to the wind for just a moment a la JLo or Shakira-style.
Overall show: a strong C+!
**************
Joe
The VMAs were back last night as if the pandemic never even happened.
The undeniable king of the night Lil Nas X got the audience going with the help of his dancers. Though the performance seemed tamer than expected, it still gave all the fun, quirky, and tongue-in-cheek moments that we need from Nas.
Chloë's début solo performance was interesting, to say the least. While she showcased excellent stage presence, the darkness of the arrangements and the aesthetic were puzzling to me. But as a big debut performance, it did feel grand and eventful, and she definitely made an impression so mission accomplished.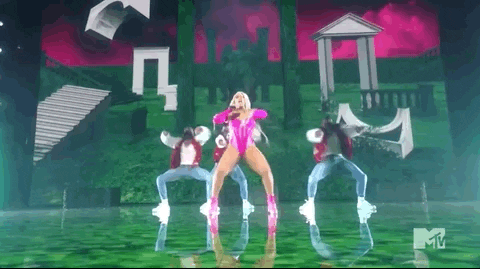 While Doja Cat's hostess with the mostess abilities didn't do much for me, she once again gave a very solid performance showcasing her versatility as a performer. It also helped that she performed two of the best songs from her latest album.
While Justin Bieber, Camilla Cabello, Shawn Mendes, and apparent "main pop girl" Olivia Rodrigo all served forgettable performances, Kacey Musgraves shined bright with her fiery showing of 'Star-Crossed'.
At this point is there any doubt that Miss Normani Kordei delivered the absolute best performance of the night? Watching her take the stage was reminiscent of the classic VMA performances from the likes of TLC and Janet Jackson whose influence was all over this showing.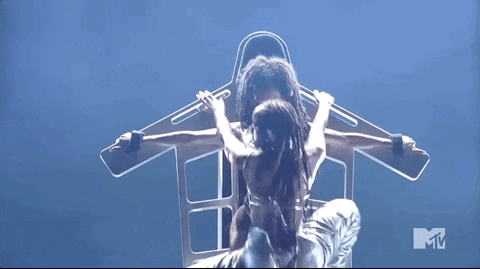 Let's hope this is only the beginning of Mani's promotional campaign and not just a bookend to one of her best offerings.
All in all, it was a fun show, one that placed the next-gen of entertainers front and center. Congrats to all the performers and winners, we've enjoyed you all very much
**************
Ryan
While live performances may be back in full-swing, there were many expectations going into this year's VMAs considering how 2020's show did a decent job of delivering in the midst of a global pandemic.
However, this year's performances and awards can be summed up in one word: mediocre. Now, I don't mean this in a bad way. I just mean that for every highlight there was a touch more disappointment, or enough to keep it from really shining.
But let's start off with the highlights. First of all, Normani came, she served, she SLAYED. This performance was easily the best of the night. From the vocals, to the background, to the choreography, she pulled out all the punches and landed each one.
Another highlight was Doja Cat. She has consistently delivered a quality performance award show after award show, and this was no different. From the descending entry to the interpretive dance, it was one of her most innovative performances to date.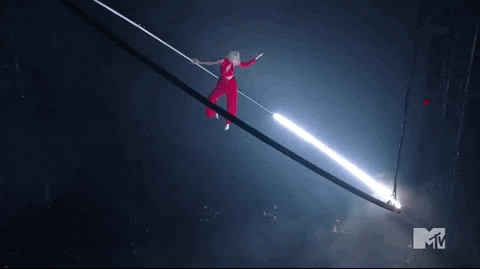 Now for those performances that were a little lackluster. First of which is Kacey Musgraves. Now, I'm a huge fan of Kacey, but this performance of 'Star-Crossed' just wasn't it. I appreciate the burning hearts in the background, but the song was too slow to perform at a high-energy show. She could've easily gone with multiple other songs from her album, such as: 'Breadwinner, 'Cherry Blossom,' or even 'Justified.'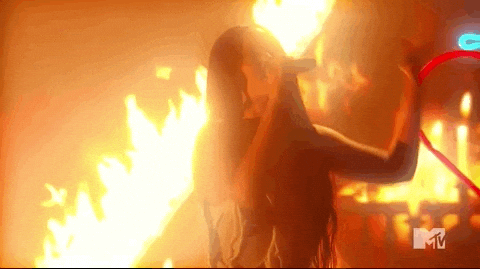 Similarly, Shawn Mendes' performance would have worked better as a snack break than an actual performance itself.
As for Olivia Rodrigo, she gave the energy and I commend her for singing live. However, the vocals were not it. They were pitchy and forced most of the time. Basically, I've heard better singing from Roseanne Barr, when she sang The National Anthem.
Not much more can be said about this year's VMAs though. It was a mixed back that delivered more misses than hits. So, here's to hoping that next year is the complete package.
****************
Do you agree with our picks? Who was spot on? Let us know your thoughts on the latest TGJ Roundtable and your thoughts on the 2021 MTV VMAs.
Your thoughts?
[Photo credit: MTV / Getty / Giphy]