Welcome To The Latest
TGJ Roundtable!
Over the years, That Grape Juice has established a distinguished voice that – whether loved or loathed – sparks discussion, debate, and on occasion drama!
Though comprised of seasoned writers who share a similar outlook on Urban Pop culture, the idiosyncrasies of the TGJ team members often lend to quite heated debates "behind the scenes" about the hottest topics.
Now, we give you a front-row seat to the show. In a format similar to 'The View,' TGJ editors – Sam, Rashad, Joe, and Ryan – get real in a very candid way.
Today's roundtable topic asks each anchor their thoughts on the…
2023 MTV VMAs 
Sam
The VMAs have a rich history of memorable moments and this year added an applaudable new chapter.
Let's get right into it.
For me, Cardi B and Megan Thee Stallion stung with the standout performance of the night.
As a Jackson-Knowles lover, I'm a stickler for detail when it comes to live performances. So, there were corners of their 'Bongos' bonanza that could have been… cleaner.
However, there's just no denying that this diva duo are bonafide superstars.
Cardi and Meg unleashed an unbridled ball of energy. And, for me, that's what award show performances ought to bring.
I personally enjoy 'Bongos,' but there's no shying away from the reality that it's a polarizer. So, they had the task of "selling it" and they delivered. Kudos!
This year's Video Vanguard Award winner Shakira has made a seasoned career out of "selling it" and last night she reminded the world why…and how.
Skilfully storming through an epic medley of hits, she showcased why she is oh-so-deserving of her flowers. Her 'Hips Don't Lie' rendition was particularly potent.
Elsewhere on the bill…
Diddy is dependable for many things and delivering a cameo-filled medley is one of them. Thoroughly enjoyed his latest showing and it was amazing seeing Keyshia Cole kill it. She sounded goodt!
One of my favorite things about Nicki Minaj is her versatility. So, while my "preferred Onika" on-stage is the all-out 'Anaconda' and Roman incarnations, I can appreciate her more demure offerings such as this. That said, with a stacked bill (that included her competition) and an album dropping around the corner, one has to wonder if going that route this time was the best move.
Ironically, despite Doja Cat also having an album to sell, I actually feel she took the wrong approach trying to to shoehorn so much of its material into one performance. 'Paint The Town Red' is the moment and is literally #1 on the Hot 100 as I type. So, performing it for such a small fraction of her medley was a little disappointing. Still, she dazzled and served spectacle which, once again, is what the VMAs are meant to be all about. Right?
For all the good, even solid shows like this have their "meh" moments.
With Anitta, I'm still waiting for her impressive abilities to be paired with equally impressive music. Similarly, Demi Lovato's vocal chops are undeniable, but I'm just not wowed by her output or her arguable inability to strike gold with her constant genre-hopping.
That said, between the mentioned and other moments like NSYNC's reunion and the 50th Anniversary of Hip-Hop closer, this was a strong night.
In an era where there are questions about the vitality of award shows in general, this year's VMAs reminded that – with the right players in the mix – such ceremonies can still be compelling.
**************
Rashad
I'd long counted the VMAs out as one of the year's least desirable award shows, but I must admit that 2023 was definitely a redeemer and easily one of its best showings in years.
Per usual, the night's best performances went to the OGs – namely Shakira and Diddy. For the former, she reminded why a) she is definitely one of the most consistent performers of her generation and b) that she and J.Lo deserved their own headlining slots at the Super Bowl. It was great to see her give attention to songs that didn't make the Super Bowl's set list (i.e. 'Objection').
Diddy gave us a star-studded self-tribute, and it was cool to see him not give a rehash of BET Awards' performances of past (even though King Combs definitely inherited his father's awkward dancing).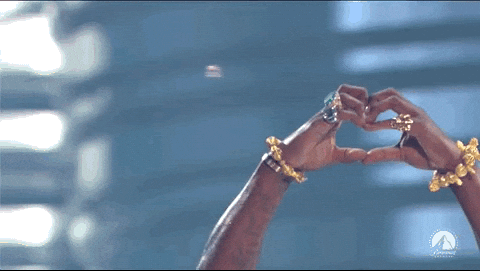 Other standout performances were Demi Lovato's soaring Rock remix of her fan favorites and, of course, the blazing inaugural showing of 'Bongos.'
Admittedly, there were portions of the Cardi & Meg performance that looked under-rehearsed, but overall the girls pulled it together. Energetically, I appreciated Doja's medley but it was a bit too chaotic (and demonic) for my personal taste.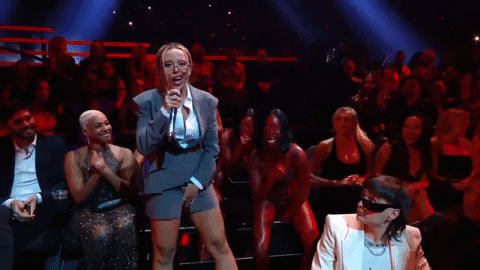 Everything else was fairly blah. C+, but a step in the right direction MTV!
P.S. – Why didn't Usher or Kylie perform? And, why didn't Victoria Monét do the pre-show?
**************
Joe
I'll say this out of the gate: I don't feel anything was particularly "show-stopping" at this year's VMAs. Still, a great time was had by yours truly… and by Taylor Swift, it seems.
First things first, the MVP of the night was none other than Megan Thee Stallion, who in a shared 3 minutes set managed to steal the spotlight from everybody else. With her natural charisma and show-woman-ship on a 100, she showed up and showed out. Okay!
Shakira's performance was "good" too, but would have been even better without the recycled elements from her iconic Super Bowl set (beats, choreo, and transitions). Nonetheless, it showcased the excitement she's been able to bring to the industry for over two decades now, and I can't help but clap for that.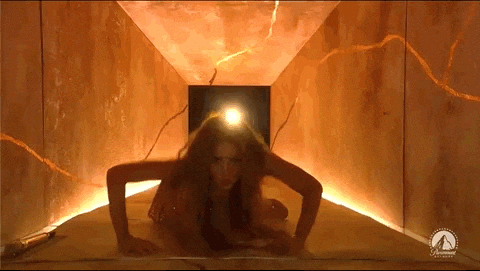 I also enjoyed when the ceremony turned into the Hip-Hop Honors from time to time. Glad to see Diddy, LL Cool J, Lil Wayne, and of course, Nicki being highlighted like the Rap legends they are.
While Doja Cat's showing was indeed "giving movie, cinematography," I am not sure what Anitta's was serving… and Demi Lovato's medley inclusion was a bit random but…"nice."
Thank you, MTV,  for a very enjoyable night.
**************
Ryan
The 2023 MTV Video Music Awards have officially come to an end and it was one of the more notable shows in recent years.
First of all, the true highlight of the night was Taylor Swift sweeping the awards and giving plenty of meme-worthy content.
Secondly, there was a ton of great to decent performances. The best performance of the night goes to Shakira. A career-spanning triumph of dancing and hits, Shakira gave us another Super Bowl-caliber show.
While not as flashy Demi Lovato is a veteran of the show and didn't need any flashy antics to stand out, because her voice commanded the arena so effortlessly.
The tribute to Rap on its anniversary was another standout moment as it reunited OGs like Grandmaster Flash, DMC, and paired them with newer stars like Nicki Minaj.
There were plenty of lows, however. Despite being a fan of both Fall Out Boy and Kelsea Ballerini, both performances fell flat and didn't give the energy that needed to be given. Additionally, Cardi B and Megan gave the same showing they always give on stage, plenty of twerking and that's about it.
Overall, this year's show had more highs than lows, so it was a welcome return to a true "MTV VMAs."
****************
Do you agree with our picks? Who was spot on? Let us know your thoughts on the latest TGJ Roundtable and your thoughts on the 2023 MTV VMAs.
Your thoughts?
[Photo credit: MTV / Getty / Giphy]