Welcome to the latest
TGJ Roundtable!
Over the years, That Grape Juice has established a distinguished voice that – whether loved or loathed – sparks discussion, debate, and on occasion drama!
Though comprised of seasoned writers who share a similar outlook on Urban Pop culture, the idiosyncrasies of the TGJ team members often lend for quite heated debates "behind the scenes" about the hottest topics.
Now, we give you a front-row seat to the show. In a format similar to 'The View' and your favorite panel shows, TGJ editors – Sam, Rashad, Joe, and Ryan – get real in a very candid way.
Today's roundtable topic asks each anchor their thoughts on the…
GRAMMYs 2023
Sam
The GRAMMYs 2023 left a taste in my mouth that was both sweet and salty – with the latter being most lingering.
Oddly (for me), the highs largely came from the award wins and the speeches attached rather than the performances. A first for yours truly.
Heading into the show, the lineup of performers read like a who's who of the current climate. However, it continues to grate that way too often it's the "most popular" acts recruited to perform rather than those who put on a genuinely jaw-dropping show. It's all well and good drafting in the industry's "top streamers," but can they collectively put on the type of spectacle that will be remembered for years to come?
Last night's show proved that the answer was a resounding "no." A "hell no," in fact.
Lizzo, who usually kills it, sounded strained; Harry Styles was note perfect, yet simply bopped up and down for 4 minutes and ignited little to no spark. Bad Bunny was a welcome bolt of energy at the show's start, but it still wasn't…enough.
I needn't beat about the bush, Beyonce was unquestionably the night's highest high and (by way of her unfair treatment) – its most shocking low too.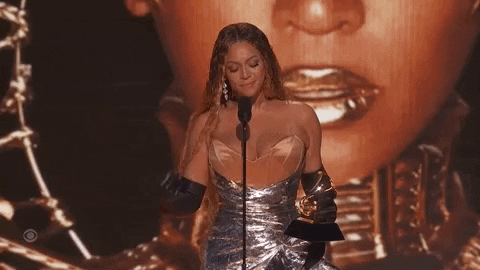 In winning four awards, Queen Bey now serves as the reigning royal of the GRAMMYs – having notched up the most wins of any artist in the ceremony's 65-year history.
However, for yours truly, the achievement is seismically stained by the fact that she was denied the Album of the Year win for the fourth time. On this occasion for her culture-shifting 'Renaissance' LP.
It's a layered topic that I may one day delve into in an expanded capacity here on That Grape Juice, but for now I'll simply say: it sends an extremely (!) worrying message to have Beyonce constantly rewarded in the R&B categories (where the lion's share of her wins are housed) only to be so glaringly shut out from triumphing in the general field categories. For me (and many others), the effective translation reads as: "kudos for slaying in your lane, but you can't hold a candle to your Pop peers when directly competing against them." A point that those very Pop peers would agree is BS. Objectively.
Like Lizzo so poignantly pointed out, Beyonce – for many (including her peers) – is quite literally "the artist of our lives." So, to see what is essentially her biggest win being paired with her biggest loss, evokes a degree of discomfort that is hard to play down.
Elsewhere, there were a few enjoyable moments such as Mary J. Blige's moving rendition of 'Good Morning Gorgeous' and the star-studded 50th Anniversary of Hip-Hop segment.
But, honestly, the lingering cloud of the Bey snub and its broader semantics (for the "Urban" sphere overall) clouded the entire affair for me.
**************
Rashad
The highs of GRAMMYs 2023 were definitely the awards and not the performances. Couldn't be prouder of Samara Joy and her multiple victories as well as the total Gospel sweep by Maverick. Obviously Bey missing album of the year and Mary going home totally empty-handed were duds, but overall the awards were pretty evenly handed out. I love Bonnie Raitt by the way, but even she was surprised she nabbed Song of the Year – a play that seemed sus' but I won't go there.
On the performance front, the clear standouts were the old heads showing the youngins how it's done. After Stevie Wonder blew the roof off the joint there was the star-studded ode to Hip-Hop. Packed front to back with hit after hit, my only complaint is that Lil Kim, Foxy Brown, nor Nicki Minaj were there to contribute. Also, the vibe went down majorly when the 2020s rappers came up (I'm just saying).
Among the newer class, Lizzo gave less than her normal spectacle but I appreciate her 'Special' performance. It was so on-brand. Samara Joy did great in the pre-show and Brandi Carlile wowed me with her soaring vocals.
All-in-all, the show was mid. C- at best.
**************
Joe
Where to start…
I think everybody will agree when I say this was the best GRAMMYs ceremony in ages – probably since 2017. And yet, its ending was the most puzzling… since 2017.
Needless to say, once again, the GRAMMYs fumbled the bag, big time. While Harry Styles is very deserving of top accolades, including the Album Of The Year, any metric would place Beyoncé's magnum opus 'Renaissance' above and beyond all the other releases it was nominated against.
For the third time in a row,  Queen Bey (with 'Ren') managed to make the world stop, look and listen, educate the masses on the history of music and start necessary conversations the world over.
Kudos on honoring the Electronic and R&B aspects of the album, but the brilliance of said effort resides in its seamless way of borrowing from various cultures and subcultures to create a vibrant, gritty yet colorful universal dance-floor. Sadly, that quality wasn't  rewarded last night, and it's very upsetting.
Anyhow, Beyonce was still the big winner of the night, and her record-breaking wins are the only things softening the blow in all honesty.
The Hip-Hop 50 medley was all sorts of legendary, quite literally. We can talk all day about how the music displayed throughout the segment aged like fine wine, but I want to redirect you to how all the acts seem to not have aged at all. Crazy!
Elsewhere, Lizzo gave a fantastic performance of 'Special' – as well as an amazing acceptance speech – Sam Smith and Kim Petras a cool rendition of their #1 song 'Unholy' and our recipient of AOTY, Styles, a forgettable offering of his chart-topper 'As It Was'.
Except for the elephant in the room, I don't have any complaint about the winners-list, and I am happy Trevor Noah was finally able to host a "proper" GRAMMY ceremony.
All in all, a great show that left me with a bitter taste in my mouth because of its botched finale. Better luck next time… or not at this point.
**************
Ryan
Let's cut right to it. This year's GRAMMYs offered something for one and nothing for everyone else.
First of all, let's get into the awards. There were some of the biggest snubs and surprises in GRAMMY history last night, namely Harry Styles winning album of the year and Adele nearly losing in all of her categories.
Perhaps the biggest snub was the songwriter of our generation Taylor Swift being snubbed from winning Song of the Year. Not only is 'All Too Well' considered her magnum opus by many, it was a hit on the charts, making the perfect formula for a win. Not to discredit Bonnie Raitt – in fact she is the next best pick in this category – but Taylor has been nominated six times and snubbed every time. I could say more, but I think it's best I say less.
Not to even get into Beyonce losing Album of the Year again – to be fair 'Lemonade' deserved it over 'Renaissance' if we had to pick an album of hers to get it, but still – or shutting out ABBA after not even nominating for the majority of their career.
As for the performances, few brought the fire that previous years did. Case in point, Sam Smith and Kim Petras promised a controversial showing and instead delivered a Nicki Minaj-esque showing with less sizzle and spice.
With no Adele, Beyonce, or even Taylor performing, this year's ceremony was left with nothing but snack break showings. Even Lizzo who is known for her energy and vibrancy on stage toned it down.
But it wasn't all bad. In fact, the best performances came via the country and Americana fronts. Brandi Carlile rocked the stage and truly showed what it means to be a rockstar, while Chris Stapleton teamed with Stevie Wonder with a performance worthy of being one of the show's most memorable.
Other than that, it was nearly four hours of a snooze fest that could have been better spent watching paint dry.
**************
Do you agree with our picks? Who was spot on? Let us know your thoughts on the latest TGJ Roundtable and your thoughts on the GRAMMYs 2023.
Your thoughts?
[Photo Via: Recording Academy / Getty]