Welcome to the latest
TGJ Roundtable!
Over the years, That Grape Juice has established a distinguished voice that – whether loved or loathed – sparks discussion, debate, and on occasion drama!
Though comprised of seasoned writers who share a similar outlook on Urban Pop culture, the idiosyncrasies of the TGJ team members often lend for quite heated debates "behind the scenes" about the hottest topics.
Now, we give you a front-row seat to the show. In a format similar to 'The View' or 'The Real', TGJ editors – Sam, Rashad, Joe, and Ryan – get real in a very candid way.
Today's roundtable topic asks each anchor their thoughts on the…
The Weeknd's Super Bowl Halftime Show
Sam
Heading into Halftime, I had ample apprehensions about Abel being the headliner.
Over the years, the Super Bowl platform has become defined by certain showmanship, sheen, and spectacle that I just wasn't convinced he possesses.
And The Weeknd, unfortunately, proved me right.
From the outset, the reception to this was always going to boil down to the main strands of entertainment folk go up for.
Some are "slayed" by visuals and production. Others (like me) prefer to actually be "slayed" by the artist and their abilities. Artists who, more times than not, also pair said ability with high production value.
So The Weekend's performance, for me, was a dud. Predictably, but also problematically too.
He had 13 minutes to cement his name in the history books on a stage that is renowned for being the showcase of the immortals. Instead, he delivered a "Weeknd by the numbers" medley that seemed more suited to an award show than the SUPER BOWL.
It retroactively makes the fact that Jennifer Lopez and Shakira shared the stage last year quite insulting. Especially given that each lady was more than equipped to slay the stage solo. Ironically, The Weeknd would have benefited in earnest from sharing the slot with an act that could bring the "razzle and dazzle" in a way that he cannot. He would have done himself (and the audience) a better service had he invited a lengthy list of guests.
So, for me, this served less of a "weekend" and more hump day.
It was also a potent reminder that slaying the airwaves does not equate to slaying a stage.
Like many others, it seems, I'll be filing this in the Underwhelming Halftimes folder alongside Justin Timberlake and Maroon 5.
**************
Rashad
I am the resident Weeknd Stan, however, I wholly enjoyed the showing because I got exactly what I expected.  Was I wowed? No. Should it make any "greatest ever" lists? No. Did I find it entertaining? Absolutely! Would I pay to see that spectacle recreated live? No question.
Detractor commentary supports three of my preconceived notions: 1) The Weeknd is too niche of an act with too niche of a catalog to appeal to an audience as wide as the Super Bowl's, 2) a career-spanning performance of that kind of material from that kind of performer does NOT speak to that kind of audience, and 3) many who were disappointed by his showing had already made up their minds BEFORE the Show.
Detractors will point to Super Bowls past to suggest Weeknd was "boring" because he didn't give the energy of a Beyoncé, Bruno, Gaga or J.Lo without considering that's NEVER been his schtick anyway. He has largely driven in a dark/emo lane, so what he displayed in Tampa Bay Sunday IS a Super Bowl-sized showing for him and is unquestionably the most output we have ever gotten in character and showmanship.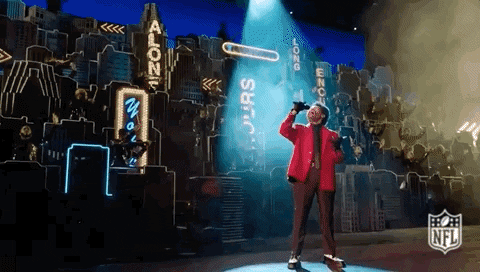 He gave the largest SPECTACLE of a show any MAN has ever given on the Super Bowl, a feat some will assert worked to his detriment as he arguably got lost in the business of the stage antics more than once.  I, on the other hand, appreciated it.
All in all, I felt it was a good WEEKND SHOW – his best yet. It served as evidence of his growth as a performer as well as proof of where his shortcomings lie.
**************
Joe
Abel had the hard task of headlining the Super Bowl's Halftime Show during a pandemic. Considering everything, I feel like he did the best that he could.
Now was his best enough to secure a show-stopping performance? As far as I am concerned, the answer is no.
The staging was stellar, at times giving video game vibes and at others serving orchestral dramatics. All while remaining very much Vegas-inspired. The setlist perfectly showcased all of the hits the artist has been able to bag in the past 6 years. Being accompanied by an army of dancers dressed as him was also a nice touch.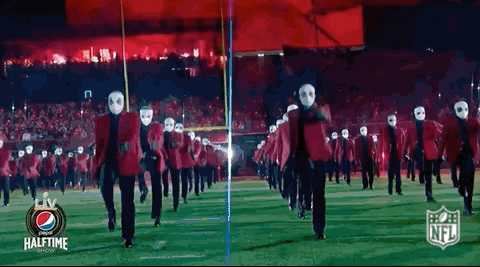 With all of this being said, I don't think he was ever able to live up to the magnitude of the production and the concept as a performer. Too often it felt as if the action was happening around him, and wasn't necessarily coming from him.
I also feel like he is trying really hard to make that "Michael Jackson meets The Mask"  persona happen, but it's not doing it for me…
In my eyes, The Weeknd has never been an artist capable of commanding the stage and the audience "like that / like that." And while his proposition was wrapped in premium, it never reached the level of excellence we've seen on that very stage time and time again.
Roll on 2022!
**************
Ryan
After a year that has been slim on blockbuster releases and stellar performances, I have had to adjust my expectations heading into the Super Bowl Halftime Show.
Naturally, for a show as big as this, fans have long since expected over-the-top performances, with each one bigger than the last. From Beyoncé reuniting with Destiny's Child, to Lady Gaga descending from the top of the stadium, to Katy Perry riding a giant tiger, there has been no shortage of memorable moments over the last decade.
So, after his record-breaking year,  the NFL tapped The Weeknd to up the ante. But did he deliver?
Well, the short answer is no. Yes, I understand that there is only so much one can do given the current state of our world, but this could have been so much bigger and better.
The Weeknd has never been a "performer" in the sense of the word. Most of the time he relies on background effects and illusions to give any weight to his performances, and this was no different. Most of the time he just stood there like a bump on a log, as the camera panned to fireworks in hopes of adding any pizazz to the performance.
To his credit, he did try. It just wasn't enough. The best comparison I can make is that this performance acted as a cucumber or salad between courses. As if it were a palette cleanser. It does the job, but I can't wait to see what's next and will ultimately forget that I even had it.
Lady Gaga this was not. But, I'll still be bumping 'Blinding Lights' in the meantime.
**************
Do you agree with our picks? Who was spot on? Let us know your thoughts on the latest TGJ Roundtable and your thoughts on The Weeknd's Super Bowl Halftime Show.
Your thoughts?
[Photo Via: NFL / Getty]