As 2013 draws to close, the onslaught of year-in-review charts are making their way online.  For music fans everywhere, however, there is only one chart that truly matters – Billboard's year end charts.
Indeed, with a year filled with the likes of top hits like 'Royals' by newcomer Lorde or unexpected runaway hits like Robin Thicke's 'Blurred Lines', fans and industry insiders alike wait with bated breath to learn of the year's top performers.
With statistical data based on radio airplay audience impressions, sales data, and streaming activity data provided by online music sources (i.e. Pandora, Youtube), 2013's year-end tally has quite the few surprises with newcomers seeming to be running the ranking's upper half.
See the top 50 below and find out where your fave landed: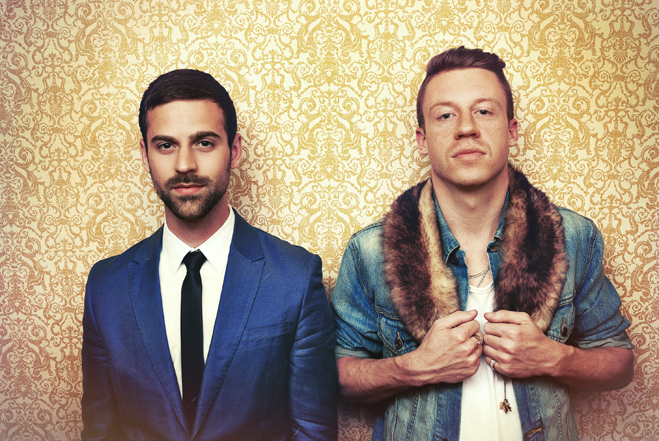 1)    Macklemore & Ryan Lewis – 'Thrift Shop'
2)    Robin Thicke ft. Pharrell Williams & T.I. – 'Blurred Lines'
3)    Imagine Dragons – 'Radioactive'
4)    Baauer – 'Harlem Shake'
5)    Macklemore & Ryan Lewis – 'Can't Hold Us'
6)    Justin Timberlake – 'Mirrors'

7)    P!nk – 'Just Give Me A Reason'
8)    Bruno Mars – 'When I Was Your Man'
9)    Florida Georgia LIne ft. Nelly – 'Cruise'
10)Katy Perry – 'Roar'

11)Bruno Mars – 'Locked Out of Heaven'
12)The Lumineers – 'Ho Hey'
13)Rihanna – 'Stay'
14)Daft Punk ft. Pharrell Williams – 'Get Lucky'
15)Lorde – 'Royals'
16)Taylor Swift – 'I Knew You Were Trouble'
17)Miley Cyrus – 'We Can't Stop'

18)Miley Cyrus – 'Wrecking Ball'
19)Avicii – 'Wake Me Up'
20)Justin Timberlake ft. Jay Z – 'Suit & Tie'
21)Anna Kendrick – 'Cups'
22)Jay Z ft. Justin Timberlake – 'Holy Grail'
23)Will.I.Am. & Britney Spears – 'Scream & Shout'
24)Zedd ft. Foxes – 'Clarity'
25)Megalithic Symphony – 'Sail AWOLNATION'
26)Swedish House Mafia – 'Don't You Worry Child'
27)Rihanna – 'Diamonds'

28)Icona Pop – 'I Love It'
29)Capital Cities – 'Safe and Sound'
30)Bruno Mars – 'Treasure'
31)Ariana Grande – 'The Way'

32)Drake – 'Started From the Bottom'
33)Selena Gomez – 'Come & Get It'
34)Drake – 'Hold On, We're Going HOme'
35)Maroon 5 – 'Daylight'
36)Pitbull ft. Christina Aguilera – 'Feel This Moment'
37)Lady Gaga – 'Applause'

38)Maroon 5 – 'One More Night'
39)Lil Wayne ft. Drake & Future – 'Love Me'
40)Fall Out Boy – 'My Songs Know What You Did In the Dark'
41)A$AP Rocky – 'F*ckin Problems'
42)Justin Bieber & Nicki Minaj – 'Beauty & the Beat'

43)Macklemore & Ryan Lewis – 'Same Love'
44)Calvin Harris ft. Florence Welch – 'Sweet Nothing'
45)Lana Del Rey – 'Summertime Sadness'
46)Phillip Phillips – 'Home'
47)Imagine Dragons – 'It's Time'
48)J. Cole ft. Miguel – 'Power Trip'

49)Alicia Keys – 'Girl On Fire'
50)Demi Lovato – 'Heart Attack'
Your thoughts?