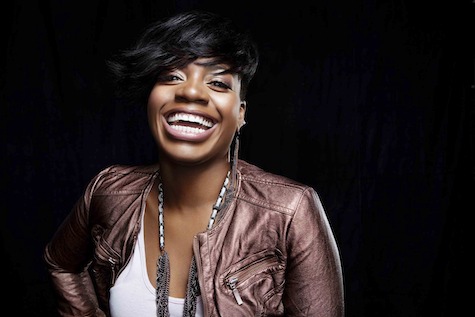 'Lose To Win' wailer Fantasia definitely won over the hearts of ABC's 'The View's audience this morning as she played co-host to Whoopi, Barbra, Sherri, and Jenny.  
In the house to promote her newest project – the jazz-inspired Broadway musical 'After Midnight', the songstress gave fans insight about what to expect from the critically acclaimed show as well as gave dibs on her own personal life.
As ever, we know seasoned journalist Miss Walters, despite the overall jovial atmosphere of Fannie's time there, had to ensure that she asked the "tough questions" and immediately cut to the chase regarding alleged rumors that the 'Bittersweet' beauty is suicidal.
How did she respond? Catch it below:
Thanks to MJsBLOG (start at 2:20):

"I'm not depressed, I'm blessed".  <—-This! Girl, put this on a t-shirt and sell it!
This interview and co-hosting gig just gave another of many reasons why we ride so hard for Fannie's cause.  She is growing and maturing so beautifully.  We give her an A+ on her response to Barbra who seems to never know the right time (if there ever is one) to go there.
Go Fannie! We anxiously await new music!
Your thoughts?