Welcome To The Latest
TGJ Roundtable!
Over the years, That Grape Juice has established a distinguished voice that – whether loved or loathed – sparks discussion, debate, and on occasion drama!
Though comprised of seasoned writers who share a similar outlook on Urban Pop culture, the idiosyncrasies of the TGJ team members often lend for quite heated debates "behind the scenes" about the hottest topics.
Now, we give you a front row seat to the show. In a format similar to 'The View' or 'The Real', TGJ editors – Sam, Rashad, Joe, and Ryan – get real in a very candid way.
Today's roundtable topic asks each anchor their thoughts on the…
2020 MTV VMAs 
Sam
This year's VMAs had the tall task of delivering the goods amidst the global health crisis.
And while I don't feel the show fully managed to overcome that hurdle, it did provide memorable moments courtesy of a very (very) select few.
Lady Gaga was undoubtedly the evening's MVP, taking home the most awards and wowing with a medley of tracks from latest album 'Chromatica.'
As an ardent lover of the LP (and her overall return to the whimsical and eccentric), I've been eager to see and hear the project's songs in a live environment. And she didn't disappoint.
'911' (with that 'Chromatica II' intro) was solid, while 'Rain On Me' with Ariana Grande was melismatic magic. It wasn't lost on me that a prerecord was used for much the performance, but I actually prefer its employment if it helps elevate the energy of the showing – which it did.
Elsewhere, Doja Cat reminded that her star quality is undeniable. Her performance of 'Say So' and 'Like That' was mesmerising. It remains to be seen whether the public will be as embracing of her as she attempts to move past her various controversies.
Beyond that, the VMAs left a lot to be desired.
On the one hand, I feel other ceremonies should follow its newly reduced runtime (because by clocking in at two hours instead of the usual three, it was a tighter, more fast-paced affair). However, even then it was slim on any real…moments.
The likes of The Weeknd, Miley Cyrus, and even DaBaby (whose theatrical performances I've come to love) didn't offer up anything memorable. While the Black Eyed Peas, who closed, were almost caricatures of their former selves.
All of which makes certain decisions elsewhere in the show all the more puzzling. Some of the most glaring being the relegation of Chloe x Halle's epic performance to the pre-show and the odd omission of Cardi B and Megan Thee Stallion – especially given the blockbuster success of 'WAP' and 'Savage' respectively.
In light of how high the logistical odds were stacked against the VMAs this year, I have to give kudos for the show even taking place. That said, I just wish there was more to praise beyond that.
**************
Rashad
Given its trajectory over the past few years, I think at this point I don't even wonder if this year will be better than last year's; I wonder if it can get any worse.  Time after time, the VMAs exceed my expectation and prove they can.
To clarify, "worse" doesn't necessarily mean bad in terms of presentation.  The visuals are fine, the performances are fine.  But, compared to other award shows, there's a clear dearth of memorable moments, standout showings, and occurrences that would keep us talking for days after (i.e. like the VMAs of yesteryear).  Last night was no exception.
The Weeknd's stunning 'Blinding Lights' performance served as a high octane kickoff to the ceremony and gave me hope that what was to come would be just as good or better.  That wasn't the case.  Miley played it way too safe (which sucks because it could've been a real moment given the self-referencing) while BTS' Powerpoint presentation just gave us more of what we've already had from them.  Gaga – the standout of the night – still failed on the engagement front.  Dressed as Mortal Kombat's Sindel while Ariana looked like Mileena, the masks over their mouths while performing was an attempt to be cute but was actually annoying.
My personal standouts were DaBaby and his continued willingness to use the award show platform as ground to draw attention to police brutality and Doja Cat.  The girl milked the hell out of her inaugural award show offering. BRAVO.
All-in-all, however, it was a no for me dawg (*Randy Jackson voice*).
The golden rule of the entertainment industry is and will forever be: the show must go on.
It's cool to see that no matter what is happening on the planet, creatives are still hard at work to provide the world with some much needed distraction.
Having said all of that, I must say that the virtual edition of the VMAs was not in winner in my eyes.
While commending MTV's will to press on with high octane festivities, the execution left a lot to be desired and felt like 2+ hours of a HD Fortnite session. Back in June, BET had mastered the same feat by keeping it simple yet exciting. Last night, we were treated to a futuristic space where only some of the presenters and performers had access.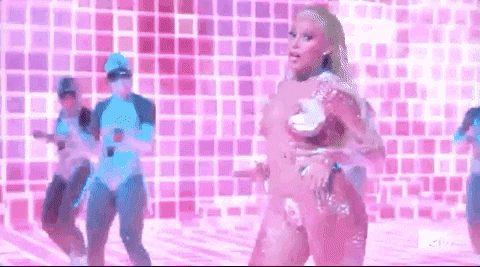 Speaking of which, who knew Doja Cat could get down like that? She simply delivered the best performance of the night with her hit medley and her dancing skills. Chloe X Halle once again served vocals and looks singing the title track from their sophomore effort 'Ungodly Hour.'
Lady Gaga was the queen of the night, and it's evident she was having the time of her life, finally being able to perform her latest music.
Her showing of 'Rain On Me' with Ariana Grande was also a highlight. Both ladies held their own both on the vocals and the choreography, and had stellar chemistry when singing their #1 single.
I wasn't particularly moved by performances by The Weeknd, Miley Cyrus or CNCO, but Keke Palmer, our host for the night, did absolutely phenomenal. Hopefully she can get the classic VMA hosting gig next year, or whenever things get better.
All in all, it wasn't the ceremony we know and love, but at least the show went on.
**************
Ryan
Except for a few moments, the 2020 Video Music Awards watched like how this year has gone: unnecessarily drawn out and full of lackluster moments.
While Keke Palmer did a decent job as host, there was a lack of big name performers on the docket. It's understandable given the current state of the world, it nonetheless made for a rather tiresome viewing.
Few defined this more than JP Saxe and Julia Michaels, whose lack of energy, boring visuals, and phoned-in vocals best suited a late infomercial than the high-energy VMAs.
Even the usually controversial Miley Cyrus was rather tame. Don't get me wrong, her vocals were on point and I loved the homage to 'Wrecking Ball' with the giant disco ball. However, after delivering some of the most talked-about performances in the show's history, the plain visuals fell flat for me.
As for the winner of the night? That easily goes to Lady Gaga's 'Chromatica' medley. I love that she chose this moment to debut '911' live for the first time. It's of the best songs on that album and deserves more recognition. 'Rain On Me' served us vocals from both Gaga and Ariana Grande (those whistle tones alone), not to mention when Gaga backs up Ariana's "At least we try" with a silky "we try" it gave me the boost of serotonin that I needed this year. I appreciated the brain piano too from her 'Stupid Love' performance. It perfectly bridges old Gaga with the new one.
Essentially, last night's award show was Lady Gaga featuring the VMAs. She proved it was her world ('Chromatica') and we are all just living in it.
****************
Do you agree with our picks? Who was spot on? Let us know your thoughts on the latest TGJ Roundtable and your thoughts on the 2020 MTV VMAs.
Your thoughts?
[Photo credit: MTV / Getty / Giphy]